Terence Hill Biography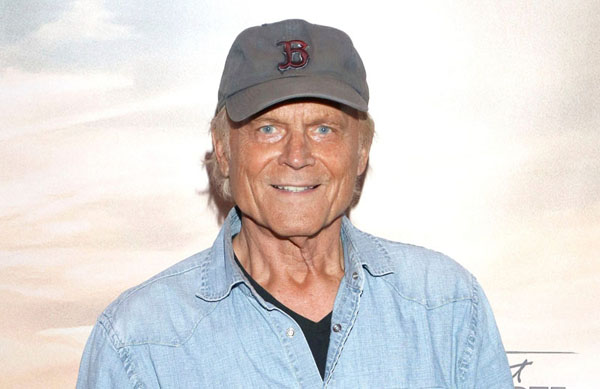 Mario Girotti was born on 29 March 1939 in the Italian city of Venice. He got his stage name Terence Hill in 1967 and used it for the first time in the movie God forgives, we both never. Until this time he was only known by his middle-class name. Since movies with American names sold better he got a list with 20 names from which he chose Terence Hill. He chose this name because it contained the same initials as his mother (Hildegard Thieme).
---
Life
Mario Girotti or many better known as Terence Hill, was born on March 29, 1939 in the Italian city of Venice. He is married and has one son. He grew up in Germany and Italy and later moved to the USA where he still lives today.
Childhood and youth
Already in 1943 Terence Hill moved with his parents and his two brothers, Oduardo Girotti and Piero Girotti, near Dresden, to Lommatzsch (district Meißen). About his childhood in Germany Terence says today: "It was the best time of my life. The many friends and the nature, I still know it like today".
Living in Germany
We went to Lommatzsch for spencer-hill.de in August 2016 and followed in the footsteps of Terence Hill. Terence (Mario) lived in this house for some years.
Address from the house in Lommatzsch
The house where Terence Hill lived for four years during his childhood is located at Döbelner Strasse 40 in 01623 Lommatzsch. Click here to see the address in Google Maps.
In the year 1947 the escape from Germany followed. So the family moved on foot (!) to their father's home, to Italy to the city of Amelia (province Terni). After they lived some years in Amelia they moved to Rome. At this time Terence was just 12 years old. He attended the 6th grade of the grammar school.
In Amelia the young Mario studied after his Abitur also some semesters philosophy.
Family
Mario Girotti's parents were the Italian Girolamo Girotti (called Momo) and the German Hildegard Thieme (1911-1956). Terence's father came from the Italian village of Gobbio (Umbria). His father was a chemist by profession and worked for Schering AG in Germany. Terence's mother and grandparents came from the small town of Lommatzsch in Saxony. Terences grandfather was Paul Richard Thieme. The Thieme family were wealthy people. They owned the Karl-Menzel glass factory.
Wife
Since 1967 Terence is married to Lori Zwicklbauer from Germany (Bavaria).
The two got to know each other during the shooting to God forgives, Django never! She was employed as a dialogue trainer at the film shooting. She also taught him the American dialect as his teacher. She herself spoke good American English because she taught in Pittsfield, Massachusetts for a while. Only two months after they met they got married. On 23.07.1967 they said yes to each other. Today Lori bears the double name Zwicklbauer-Hill.
Children
Jess Hill
Terence and Lori have together a son named Jesse Hill (mostly only called Jess Hill). Jess was born on Friday the 07.11.1969. He is also active in the film business and owns a film company in Los Angeles (USA).
In 2003 his son William Hill (mostly only called Will) was born. He is the grandson of Terence.
Ross Hill
Furthermore Terence and Lori adopted a boy they named Ross. Ross Hill was born on Wednesday, April 11, 1973. Three days after his birth on 14.04.73 they adopted the orphan boy in a hospital in Munich. The shooting of the movie "Zwei wie Pech und Schwefel" took place at the same time. Ross died tragically on 15.01.1990 in Stockbridge (Massachusetts) in a car accident after his car crashed into a tree on a slippery road. His friend Kevin also died with Ross, who was also in the car.
Sports career
One of his great hobbies was swimming. He and his team won the bronze medal at an Italian youth tournament. In his club (Lazio) was also his later film colleague and friend, Bud Spencer.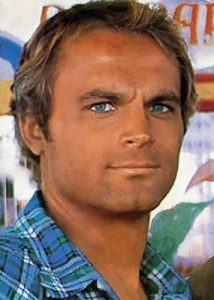 Acting career
He gained special fame however only later, when he could be seen in more and more movies in the following years, mostly in a duo with Bud Spencer. Terence was discovered by the Italian film director Dino Risi (1916-2008) who noticed him at a swimming competition and engaged him later.
Mario Girotti already had his first contact with acting in his early years, he was used in different movies. He played his first role in 1951 in the movie "Vacanze col Gangster" at the age of 12. He got big into the film business with the Karl May movies. In the western "Winnetou II" Hill played a lieutenant. In the following years the Italian played in further Karl May movies or in the "Nibelungen". Only in the late 60's Hill changed then to the movies, which one still knows from him today: Western comedies and Italowestern. Here you can get a list with all Terence Hill and Bud Spencer movies in which they can be seen as a duo.
Since the 28.07.2017 a new television series with Terence is broadcasted in the Bavarian radio. Every Friday from 20:15 – 21:10 there runs the Mountain Police – Close to the Sky on BR. Terence in the leading role plays there Pietro the commander of the forest guard in South Tyrol. Altogether there are four squadrons. In the 4th season Terence leaves the series together with other leading actors and does not play any more since then.
---
Things to know
German language
In his childhood, Hill spoke almost exclusively German up to the age of six, and even today he still has a good command of this language. His mother always spoke German with him, his father also spoke Italian.
Terence said in an interview: "The first years of life are the most formative and important. My mother spoke German at home. Words like "sleep" or "I love you" have a deeper meaning for me in German than when I say them in English or Italian."
Terence Hill Swimming pool
To honour him, a bathing establishment in Lommatzsch was named after him. Terence donated a water slide to the bath built in 1909. However, the Terence Hill outdoor pool was closed in the 2011 season due to construction defects and is now decaying. The city administration of Lommatzsch, a bathing club and interested citizens have been trying for some years to find a solution for the preservation of the outdoor pool. In April 2017, the Badverein officially announced that it was dissolving. Thus the last rescue of the bath had failed.
According to initial plans, a traffic school is to be built on the site of the bath.
The address of the outdoor pool
The Terence Hill outdoor swimming pool is located at Riesaer Str. 25 in 01623 Lommatzsch. Click here to see the address in Google Maps.
Terence Hill Bridge
In June 2018 the city of Worms (southeastern Rhineland-Palatinate) decided to name a bridge after Terence Hill. For the inauguration ceremony Terence Hill himself should be present, who was on tour in Germany at that time anyway to present his new film. The celebration was to take place on August 24, 2018.
The Karl-Kübel-Bridge was originally named after its founder "Karl Kübel". An artist from Worms and many fans called it "Terence-Hill-Brücke" for a while. She should get the new name "Karl-Kübel-Terence-Hill-Brücke". The Lord Mayor of Worms supported the wish to change the name at the beginning, as many Terence Hill fans had voted for it as well. On June 9, 2018 the renaming was withdrawn and the following press release was issued (excerpt):
"My press release did not consider the consequences and I have to correct myself. My intention to take account of the many Terence Hill fans in Worms with my advance did not consider the sensitivity of the matter and would not do justice to the importance of Karl Kübel."
---
Eiscafe Girotti
For many years an ice cream shop of the Girotti family existed in Amelia. It was founded and run by Terence's great uncle Quirino Girotti. After many years the ice cream shop closed in 1974.
43 years later, Terence and his son brought the ice cream shop back to life in 2017. It carries the name Gelateria Girotti.
If you want to go there for an ice cream, you can find her at this address: Via della Repubblica, 52, 05022 Amelia TR, Italy. Or directly via this Google Maps Link .
Slaps and Beans (PC game)
On 15.12.2017 the PC game "Slaps and Beans" (via the entertainment platform Steam) came onto the market. It was successfully financed one year before by Kickstarter.
Slaps And Beans is a multiplayer or single player scrolling beat 'em up game with special platform elements and mini-games. It offers retro pixel graphics in the design of the 80s and costs 20 EUR.
---

Picture sources: joyreactor.cc, Screenshots of original DVD/VHS cover and scenes from the movie, scene from Two like pitch and sulfur, signature of autograph card;