I'm for the Hippopotamus is the 13th joint film by Bud Spencer and Terence Hill.
---
Show all international titles
Belgium (Belgian): De Krokodil en het Nijlpaard
Bulgaria (Bulgarian): Аз съм за хипопотама
Denmark (Danish): Vi holder med flodhestene
Finland (Finnish): Mutaa kuonoon! sano virtahep
France (French): Cul et chemise
Greece (Greek): Ego kai o ippopotamos tha ta kanoume limpa
Yugoslavia (Yugoslav): Ja i nilski konj
Netherlands (Dutch / Dutch): De vier vuisten op safari
Norway (Norwegian): Vi holder med flodhestene
Portugal (Portuguese): Pela Medida Grande / Nós Jogamos com Os Hipopótamos
Russia (Russian): Я – за гиппопотамов!
Sweden (Swedish): Jag håller på flodhästarna
Slovenia (Slovenian): Jaz in nilski konj
Spain (Spanish): Yo estoy con los hipopótamos / Estoy con los hipopótamos / Dos superlocos en apuros
Czech Republic (Czech): Hrosi v Africe
Hungary (Hungarian): Én a vízilovakkal vagyok
USA / UK (English): I'm for the Hippopotamus
* Explanation of the language name on the filmography overview page.
[/ spoiler]
---
Show movie stick in detail
Direction: Italo Zingarelli; Assistant Director: Renzo Marignano, David Bensusan (Assistant Director); Production: Ezio Palaggi (Production Manager), Roberto Palaggi (Executive Producer), Paolo Tassara (Production Inspector), Rosella Colombo (Production Secretary), Fred Swart (Site Manager 1. Unit), Dennis van der Merwe (Location Manager 2nd Unit), Margareth Sorgarello (Cashier General Manager), Carol Joseph (Cashier), Vincent G. Cox (a.s.c. ; production manager); production company: Zadar Film, Denver Film Productions; screenplay: Barbara Alberti, Italo Zingarelli, Amedeo Pagani (story and screenplay); Vincenzo Mannino (screenplay); Nino Longobardi (theme); music: cut: Claudio Cutry (montage), Alfredo Menchini, Ernesto Triunveri (assistant montage); film construction: Francesco Bronzi (scenography); Stunt coordinator: Remy Julienne (stunt car consulting); Giorgio Ubaldi (master at arms); costumes: Luciano Sagoni (costumes), Ida Cristofori (Sarta – wardrobe master), Alex De Wet, Maria Conti, Sandy Hyde (wardrobe assistant); Make-up: Luciano Giustini (make-up artist), Linda Robertson (make-up assistant); hairstyles: Fausto De Lisio (hairdresser); sound: Fred Ridgard (sound engineer), Tony Bensusan (sound assistant); dialogue coach: Raffaele Mottola (dialogue coach; as Ray Mottola); props: Graeme Orwin (prop master), Patrick Willis, Antonio De Campos (prop assistant); card tricks: Tony Binarelli (game consulting); animal training: Eric Nordh, Janet Nordh, Jack Seale, Guido Otto, Hans Otto (animal scenes consulting);
[collapse]
---
More Actors
Name of actor | Name in film
Johan Naude | Mr. Ormond's henchman
Hugh Rouse | Police Commissioner
Joseph Szucs | Ormond's henchman
Tony Binarelli | Players on the marketplace
Kosie Smith | Head like a toy brick
Sandy Nkomo | Senghor (Stella's father)
Dawn Jurgens | Stella
Carolyn Ann Dewrance | Woman at the Casino
Nick Van Rensburg | –
Derek Mills | man in the courtroom
Marcello Verziera| Ormond's henchman
[collapse]
---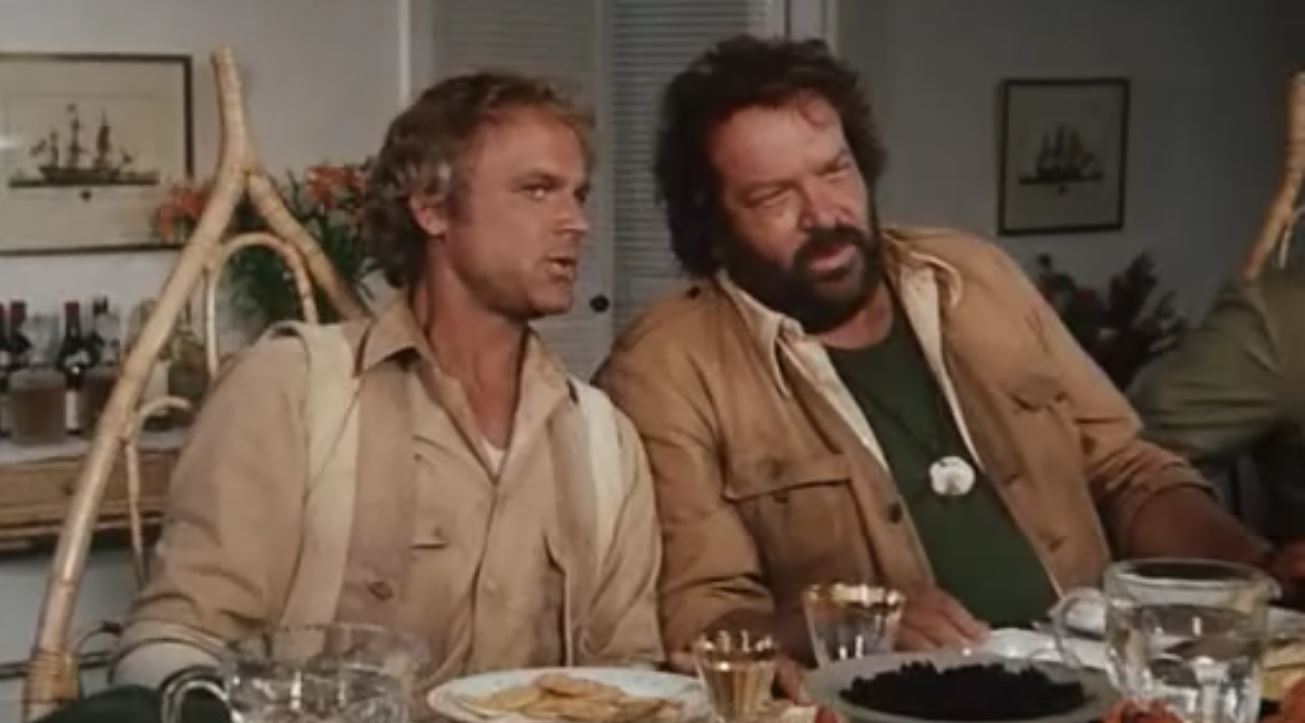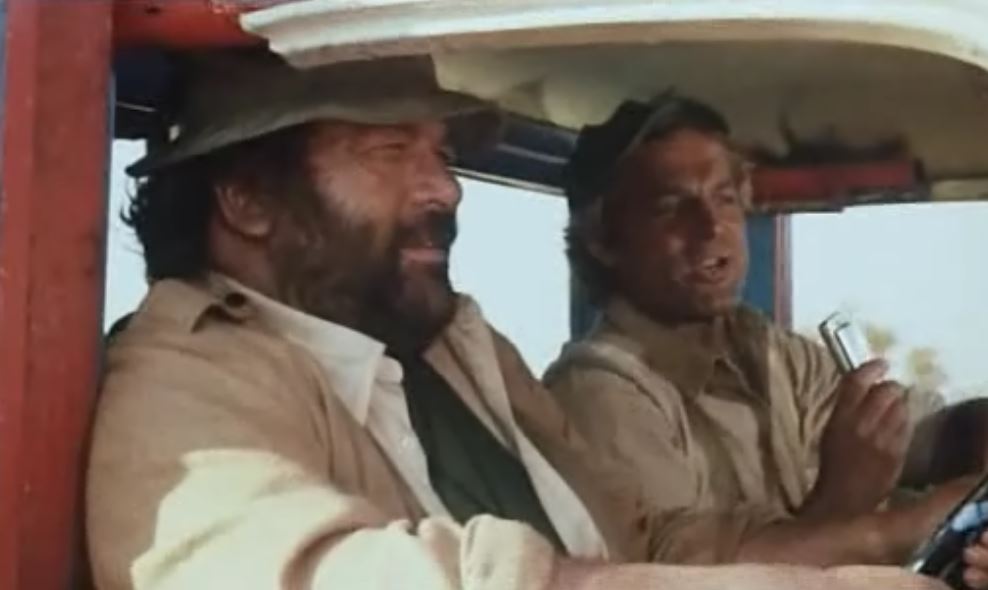 film plot
The cousins Tom the hippo (Bud Spencer) and Slim the crocodile (Terence Hill), could hardly be more different. While Tom earns his living as an entrepreneur with hunting safaris, Slim is committed to the animals of Africa. As a bon vivant, he happily makes his way through life.
After years they meet again, first they argue, then they fight and finally they plan to work together.
Slim joins Tom's business after he has been persuaded by Tom to give him more cash, but insists that the rifles on safari are loaded with blanks. The hunters find out about this and call him to account, whereupon one of the hunters gets a huge cuff on the back of his head.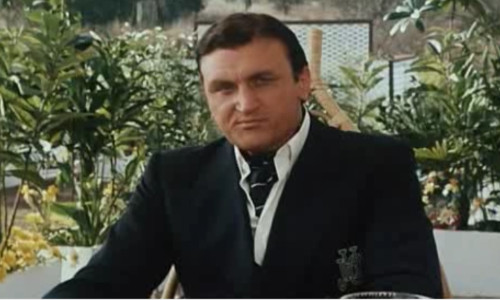 A thunderstorm is also coming from the other side: Mr. Ormond a speculator and criminal. He wants to build up the land of the natives for a safari enclosure and is not very squeamish about it. Mr. Ormond knows that he can make a fortune by shipping native animals. He is supported by his people who do the dirty work for him. His henchmen are for example Trixie, Lumpy and others.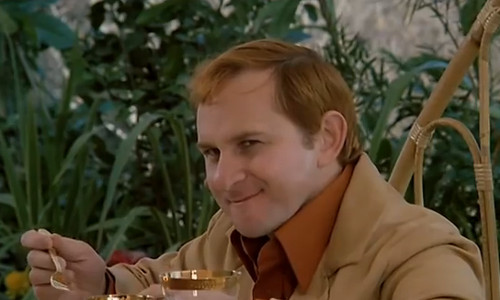 Neither bribery, attempted murder nor a bogus lawsuit will bring Mr. Ormond the desired success.
Tom and Slim can free the animals. Ormond and his men will be properly rousted and driven from the country.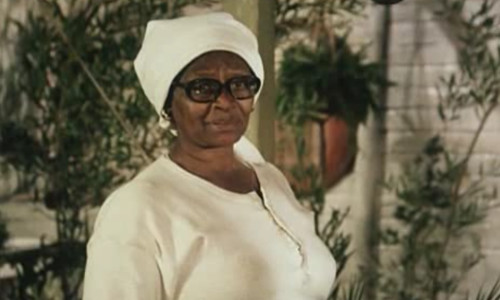 ---
trailer
We show you here the trailer of EMS. This is not the original German cinema trailer. But it is cut together in a more interesting way, shows many good scenes and gives a better overview of the content of the movie.
---
locations
The shooting of I'm for the Hippopotamus took place in South Africa, mostly near Johannesburg. Scenes were also shot in Rhodesia, today's Zimbabwe. The scenes with the wild animals were shot in a nature park near Pretoria (South Africa).
---
movie quotes
Quotes and sayings from the film
(Translated from original German dialogues)
Tom: Mama Leone, you have to shut everything down – Crocodile, that lousy piece is back!
Slim: human, you're fat! You're an act for the circus!
Tom: Do you know why the dear little pacifier isn't blue?
Trixie: Who cares?
Tom: because my mom wanted me to be a girl. I am… a bride with a full beard, hey hey,… you sitting giant!
Slim: Agreed!
Tom: Lovely! I would suggest that we buy a bus first: red-blue varnish! £408 quid that costs!
Slim: It's almost a gift.
Tom: How does it taste?
Slim: Hm, not bad at all. Could've cooked a little longer.
Tom: It sounds like you're eating a gutter!
---
worth knowing
The film I'm for the Hippopotamus:
Came to the German cinemas on 12/13/1979
Was the duo's thirteenth film Spencer / Hill
Was first broadcast on German television on 25.05.1985
It's one of the more popular Spencer/Hill films.
The film won the 1980 Golden Screen
This is the only Spencer Hill film shot entirely in Africa.
eating scenes
In one of the eating scenes at Mr Ormond's estate, Terence is eating a lobster. It was originally made from a fake Hunner. But it didn't look realistic enough. So a real one had to be made. But the scenes were shot in such a way that he always bit into it briefly, then the camera was stopped and he could spit out the piece. They repeated this a few times.
The scene where Terence mixes and drinks caviar, butter, champagne and salt was also real and he drank the whole glass.
---
film music
Soundtrack by: I'm for the Hippopotamus
Title: Grau, Grau, Grau
Composer / Interpret: Walter Rizzati & Carlo Pedersoli
---
title song MP3
Here you can listen to the title song Grau, Grau, Grau in MP3 format.
song text
Lyrics von Grau, Grau, Grau
Watch out Mr. Lion don't bite me.
Shout down, if you wanna go free.
I'll hear when you call and I answer you all:
Grau Grau Grau.
Some people are'nt nice to lions.
Some people are'nt nice to hippos.
We better think twice let's try it be nice.
Grau Grau Grau
Man is wild and lions are wild,
that's what most people say.
But I have seen that malice king
and lions just like to play.
And I'm not drunk, it's not the sun,
that makes me feel this way.
But lions are mart and minor wild
and children just like to play.
So please Mr. Man don't shoot me.
don't catch me, don't take me away.
It's here where I live, let's forget and forgive.
Grau Grau Grau
Watch out Mr. Lion don't bite me.
Shout down, if you wanna go free.
I'll hear when you call and I answer you all:
Grau Grau Grau.
Some people are'nt nice to lions.
Some people are'nt nice to hippos.
We better think twice let's try it be nice.
Grau Grau Grau
So please Mr. Man don't shoot me.
don't catch me, don't take me away.
It's here where I live, let's forget and forgive.
Grau Grau Grau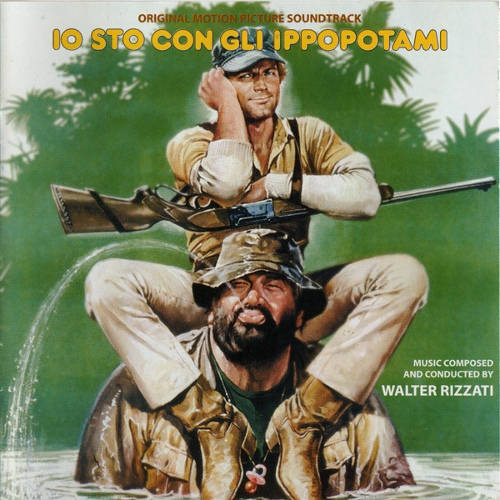 Bildquellen: Screenshots von Szenen aus dem Film, commons.wikimedia.org/wiki/File:Das_krokodil_und_sein_nilpferd.svg#/media/File:Das_krokodil_und_sein_nilpferd.svg von Tobis, Video und Ton Quellen: youtube.com/watch?v=6QfM5gFRATc