The biographies of Bud Spencer and Terence Hill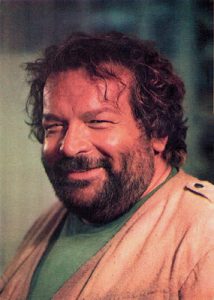 Bud Spencer
"Popular, bearded and brawny," Bud Spencer has starred in many spaghetti westerns and action films produced in both Italy and Hollywood.
He was born Carlo Pedersoli and was an Olympic silver medallist in swimming at the Helsinki games in 1948 before becoming an actor in 1955. Spencer always found the greatest success when he teamed up with Terence hill as the fighting duo in films such as "Odds and Evens" (1977) and "Double Trouble" (1984).
After 1985 Spencer's career slowed down although he found success again in the early 90'swith the internationally produced police television action-drama "Extra-Large".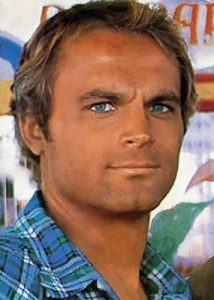 Terence Hill
Terence Hill was one of Italy's highest paid stars at the height of his "considerable" popularity. Tall and handsome, born Mario Girotti, he was of Italian-German heritage.
Hill was discovered at the age of twelve by an Italian filmmaker during a swim meeting. He was cast in the film Holidays For Gangsters (1951) and continued to make occasional film appearances over the next decade to pay for his education. He studied literature at the University of Rome before becoming a full time actor in 1961. He then started making Action and Western Films in Germany, until he returned to Italy in 1967.
In 1969 he changed his name to Terence Hill. Hill gained popularity when he began starring in films such as "They Call Me Trinity" (1970), and "Trinity Is Still My Name" (1971) with Bud Spencer.
Hill and Spencer went on to make aighteens films together. Hill eventually took up residence in America and made two Hollywood films "March or Die" (1977) with Gene Hackman and "Mr Billion" (1976) opposite Valerie Perrine. He had a hit with "Super Snooper" in 1980 and went on to add directing to his repertoire.